Peggy Lee was 49 years old when Capitol Records released Is That All There Is? in 1969. It was her 42nd album, and it had been over 10 years since the singer born Norma Deloris Egstrom, in 1920, had last graced the US Top 40 with her presence; her sultry take on Little Willie John's 'Fever' scaled the upper echelons of the American hit parade in 1958.
But Lee, a country girl with Scandinavian ancestry who hailed from the plains of North Dakota, had more in the tank. The haunting and idiosyncratic 'Is That All There Is?' (inspired by a short story called Disillusionment from German writer Thomas Mann) captured the public imagination when it was released as a single in the States and started climbing the pop charts, where it peaked at No.11. Such was the song's impact that it won Lee a Grammy Award in the category of Best Contemporary Female Vocal Performance in 1970. Its success was a surprise to Capitol, who thought the song was too odd and esoteric to be a hit.
The song opens Lee's album of the same name and, even today, remains a profoundly potent piece of music. It has the ability to simultaneously provoke conflicting emotions, eliciting both laughter and pathos. Combining a spoken narrative with a plaintive refrain sung over a jaunty rhythm, it evokes the Berlin cabaret scene of the 1920s and the spirit of German composer Kurt Weill. The song was penned and produced by noted hitmakers Jerry Leiber and Mike Stoller, and it's unlike anything else they wrote: a philosophical rumination that questions the meaning of things.
Arranged and conducted by a young Randy Newman, 'Is That All There Is?' is beautifully delivered by Lee in plangent tones, mixing a droll, ironic humour with a poignant reflection on the absurdity and, indeed, disappointments of life. Despite the song's sombre mood and theme of disillusionment, the chorus is gloriously carefree: "Let's keep dancing/Let's break out the booze and have a ball," Lee sings, and she sounds like she means it. (Understandably, the song – which was originally written for, and turned down by, Marlene Dietrich – has inspired many covers over the years, including notable versions by Tony Bennett and PJ Harvey with John Parish.)
Though it was the undoubted cornerstone of Lee's 1969 album, there was much more to enjoy besides the title song. Another Leiber and Stoller composition, 'Whistle For Happiness', is stylistically similar to 'Is That All There Is?' while their 'I'm A Woman' is a swaggering, sassy blues that was first cut by Lee on her 1963 album of the same name and was a minor US chart hit at the time.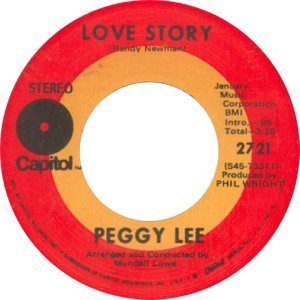 Elsewhere, Lee deconstructs the Al Jolson-associated 'Me And My Shadow' and imbues it with a languorous sensuality, while the Nancy and Frank Sinatra duet 'Something Stupid' is reconfigured into a breezy bossa nova. Another highlight is her take on Randy Newman's 'Love Story (You And Me)', the opening cut on the singer-songwriter's 1968 debut album for Reprise, which is arranged and conducted by the composer himself. Newman's 'Johnny (Linda)' is also included and has an arrangement that recalls the vaudevillian quirkiness of the album's title track.
Lee also embraced the rock music zeitgeist by tackling The Beatles' George Harrison-penned 'Something' and Neil Diamond's gospel-flavoured 'Brother Love's Travelling Salvation Show', though she does them in her own inimitable way.
Is That All There Is? dared to be different and showed that, though Peggy Lee was often typecast as a stereotypical jazz chanteuse, she was a much more versatile performer than had hitherto been revealed. Though its title song is an ode to coping with disappointment, that particular emotion is the last thing that you feel when listening to this classic album, which is a life-affirming delight from beginning to end.
Shop related Icons in the MusicVaultz store: