To mark Martin Luther King Day, may we recommend an excellent playlist to help celebrate the memory of the great civil rights campaigner? The 10-track list has been compiled by our friends at Concord Music, and features a weighty and immensely uplifting selection of poignant music, old and new, from their catalogue, collectively called Songs of Protest and Progress.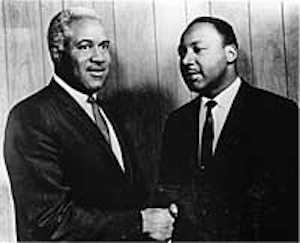 The soundtrack features some time-honoured performers and pieces that are more relevant today than ever, such as Billie Holiday's 'Strange Fruit,' several songs by Odetta including 'If I Had A Hammer' and such anthems of positivity by Joan Baez as "How I Got Over" and ""Brother Sister."
Fellow musical spokespeople of the civil rights movement such as Clara Ward and the Staple Singers are also represented, along with modern-day artists who have always worn their social conscience on their sleeve.
The playlist begins with an exciting new gospel-flavoured release by Southern Avenue and also features 'Got Me Accused,' from seasoned southern soul man Bobby Rush's current, Grammy-nominated album Porcupine Meat. Never forget Martin Luther King Jr.'s legacy.
Southern Avenue – "Don't Give Up"
The Staple Singers – "Long Walk To D.C."
Clara Ward – "How I Got Over"
Bobby Rush – "Got Me Accused"
Odetta – "If I Had A Hammer"
Billie Holiday – "Strange Fruit"
Brenton Wood – "A Change Is Gonna Come"
The Brand New Heavies – "Brother Sister"
Michael Franti & Spearhead – "Good To Be Alive Today"
Dyke & The Blazers – "My Sisters' and Brothers' Day Is Comin'
Shop ICON titles in the MusicVaultz store: