On this day in 1981, Blondie made waves by notching their fourth and final #1 in the United States with "Rapture."
Thanks to its rapidfire bridge, "Rapture" is the first song to feature rapping that hit the top of the charts.
Singer Debbie Harry even name checks hip-hop pioneers Fab Five Freddy and Grandmaster Flash in her verse as a nod to the greats.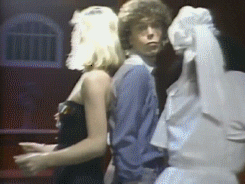 The music video premiered on Solid Gold and later became the first rap video to be broadcast on MTV. Artist Jean-Michel Basquiat makes an appearance in the video after Grandmaster Flash did not show. Fab Five Freddy and graffiti artist Lee Quinones also make cameos.
Rewatch this '80s classic below:
What does "Rapture" make you think of when you were younger? Let us know in the comments!
---
Items You Might Be Interested In: