We've all been there: working jobs just to make a dollar.
For most rock stars, the road to success wasn't traversed overnight. Many of our idols had to work dead-end gigs to help cover recording costs or provide a stable income outside of live shows.
We're looking at 10 music superstars that worked the grind before making the big time.
---
Gene Simmons
Job: Assistant to Editor at Glamour & Vogue
Gene Simmons also worked as an elementary school teacher and a hotel pool lifeguard.
---
Johnny Cash
Job: Military Code Breaker
Cash worked in the cryptographic intelligence unit of the army.

---
Rod Stewart
Job: Gravedigger
When Rod wasn't digging holes in London's Highgate Cemetary, he also professionally played soccer with the Brentwood Football Club.
---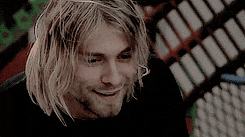 Kurt Cobain
Job: Janitor
After dropping out of high school, one of Cobain's first gigs was returning to the same halls as a custodian.
--- Chris Cornell
Job: Fish Handler
Working for a seafood wholesaler, Cornell would sweep up the guts of a slimy market.
---
Tony Iommi
Job: Sheet Metal Worker
It was at this job Iommi chopped off the end of one of his fingers. The prosthetic fingertip helped develop his distinct guitar style.
---
Chuck Berry
Job: Beautician
Chuck Berry's gifts extended far beyond music, and surprisingly included esthetics!
---
Sting
Job: Bus conductor
Not quite the 'policeman' gig you were hoping for.
---
Moby
Job:Golf Caddy
The gig only lasted for two weeks.
---
Mick Jagger
Job:Porter at a Mental Health Facility
He reportedly earned four pounds, ten shillings a week.
---
Items You Might Be Interested In: